"Writing in the forthright style of a self-help book, seven-time author Cohen (The Naked Roommate, 2017) pulls no punches." - Booklist
"Cohen (The Naked Roommate) lays out strategies for turning negative outcomes into positive ones in this refreshing guide." - Publishers Weekly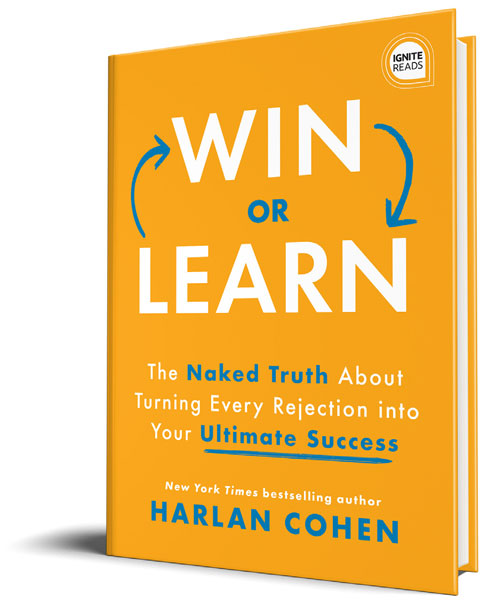 ---
WIN OR LEARN, YOU CAN'T LOSE
What would life be like if every risk you took ended in success?
In Win or Learn, rejection expert and New York Times bestselling author Harlan Cohen lays the framework for identifying your wants, taking the risks necessary to pursue them, and finding success no matter the outcome.
This step-by-step risk-taking experiment will guide you on a journey to understand your worth and fight for your goals without the fear of rejection—because rejection is a universal truth but not a final destination. After years of relentless risk-taking, New York Times best-selling author Harlan Cohen has unlocked the secret to sparking success without the fear of failure. Cohen's revolutionary perspective on risk-taking and overcoming rejection will help you realize your dreams, understand your limits, and find victory in every risk.
Through Cohen's approach, you'll learn to want more, risk more, and ultimately achieve more.
RELEASE DATE: January 5, 2021  (Sourcebooks)
FOR BULK ORDERS CONTACT: Lance Vanderhagen (lance.vanderhagen@sourcebooks.com)
---
ABOUT THE AUTHOR
HARLAN COHEN is the New York Times bestselling author of the Naked Roommate series and six other titles. His books have over 1 million copies in print in multiple languages. Harlan is a speaker who helps thousands of students, parents, educators, and professionals every year. He is also the founder and editor-in-chief of Before College TV. Harlan lives in Chicago, Illinois with his wife and three children. For more information about Harlan visit www.HelpMeHarlan.com. Follow Harlan on social media @HarlanCohen and @HelpMeHarlan.
---
The Naked Roommate: And 107 Other Issues You Might Run Into in College
The Naked Roommate: For Parents Only
The Naked Roommate's First Year Survival Workbook
Dad's Expecting Too: A New Parents' Guide
Getting Naked: 5 Steps to Finding The Love of Your Life (While Fully Clothed and Totally Sober)