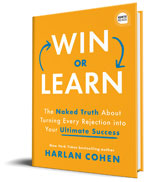 WIN OR LEARN
"I never lose. I either win or learn" - Nelson Mandela


DESCRIPTION: What do you want to create? What do you want to experience? What do you want to change?  If you could take a risk and know that you would never lose, how would your life change? Imagine what you could accomplish...

New York Times bestselling author Harlan Cohen delivers a 5 step approach that will redefine success.  During this interactive event, leaders will set goals, learn new success strategies, and participate in a process that will minimize obstacles and break through barriers. Attendees will engage in activities and exercises that will create lasting change and guarantee success.  Harlan uses the latest research, humor, audience interaction, and personal experiences to get participants to step outside their comfort zone and grow in ways they never imagined. No dream is too big when you live life with the WIN or LEARN mindset.

COLLEGE AUDIENCES: This program is based on Harlan's forthcoming book Win or Learn (Jan '21). Students will set goals, take risks, and redefine success. Participants will learn to focus more on the process and less on the product. The framework and strategies will guide students through their college years and beyond.
PROFESSIONAL STAFF: This interactive and dynamic program provides a framework to help professional staff support students inside and outside the classroom.  Professional staff will learn new skills that can help them push through personal boundaries and redefine success in their personal lives.
TOPICS: Leadership, grit, resilience, risk-taking, first-generation students, success, adversity, emotional intelligence, conflict resolution, communication, goal-setting, growth mindset, and overcoming rejection.
AUDIENCE: First-generation students, Professional groups, college students, parents, and anyone working with students.
LENGTH: Keynotes 45-90 minute / Workshops 60-minutes to a full day
TYPE OF PRESENTATION: On-campus or Virtual
FEES & AVAILABILITY: SUBMIT EVENT INTEREST FORM
---
What People Are Saying
Harlan was an absolute pleasure to have at Northeastern. He could not have been more gracious, easy to work with or nicer with our students. We had a fantastic turnout for a Friday rainy night in Boston –and what's even better is that students stayed the entire show and really enjoyed it. We had an after-party that Harlan promoted during the show and had a very successful event. Students came to meet each other, meet Harlan and put themselves out there in a way that was clearly a result of Harlan's encouragement and messaging. Possibly the most impressive to me was the time that Harlan took with students ---he was patient, kind and stayed at our event until each and every student who wanted an opportunity to speak with him had ample time to talk.

Amaura Kemmerer, LICSW
Director, Office of Prevention & Education at Northeastern O.P.E.N.
---
You had such a significant impact on my son and your words kept his dream alive.  I am so thrilled we attended your program and I sincerely thank you for your incredible words and inspiring my son to follow his dreams and not give up.
- Lori R, Mom of Deerfield High School Student
---
Last night was OUTSTANDING! Thank you so much for not only presenting, but actually spending time with our students and parents. Let's set up a lunch meeting soon to plan for next year
- Lulú Hertenstein, Community Outreach Specialist, West Aurora School District 129