WIN OR LEARN PARENTING
______________
5 SIMPLE RULES FOR PARENTS:
How to raise gritty, resilient, and passionate
people
Description: Today's parents hear more, see more, know more, and are more involved in their children's lives than ever before. Technology has made it easier than ever for parents to track, manage, and solve their kid's problems.  As a result, many students miss out on having the opportunity to acquire the life skills needed to overcome adversity, navigate change, and get comfortable with the uncomfortable. A record number of students report feeling anxious, impatient, and unable to cope. They graduate from high school without the grit, resilience, and ability to navigate the challenges awaiting them in college and beyond.  This was especially clear during COVID.  Students need help learning how to manage discomfort and be the creators of their own joy.  Parents want to help, but they don't always know the best way to help.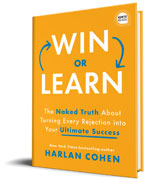 Can fixing what's broken today make it harder for my child to fix what's broken tomorrow? Am I preparing my child to handle the social, emotional, physical, financial, and academic transition that is part of life in college, and beyond?  How can I help my child dream big, believe in themeselves, and create joy during a time of dramatic change? These are some of the questions 5 Simple Rules For Parents answers.
New York Times bestselling author Harlan Cohen gives parents a framework to guide and support their children through all stages of life.   Harlan's Five Simple Rules are based on his latest book WIN OR LEARN, personal interviews, group discussions, and research gathered on over 500 high school and college campuses.   Harlan delivers actionable tools and advice parents can immediately apply. 
As a parent of three young children, Harlan also shares challenges and lessons from his own life as a father and husband. He combines insightful advice with facts, stats, and the latest trends to help parents be the best partners for their children and children become advocates for themselves.
His virtual events include live interaction, audience participation, facts, stats, data, and constant engagement. Attendees will leave with a new perspective, actionable information, and tools they can immediately put into practice.
Questions? Have a date in mind? Event Request Form.
TOPICS: Mental health, grit, resilience, risk-taking, adversity, emotional endurance, conflict resolution, communication, problem-solving, getting comfortable with the uncomfortable, and overcoming rejection.
ADDITIONAL DETAILS: Each program is customized to include photos of your students and school leaders, local resources, and information unique to your community.  Virtual events include audience polls, real-time interactive engagement, and live Q & A. 
AUDIENCE: Grade school parents, middle school parents, high school parents, teachers, counselors, educators, and anyone working with students.
LENGTH: Keynotes 45-90 minute / Workshops 60-minutes to full day
FEES & AVAILABILITY: SUBMIT EVENT INTEREST FORM
---
ABOUT HARLAN
HARLAN COHEN is the New York Times bestselling author of the Naked Roommate series and six other titles. His books have over 1 million copies in print in multiple languages. Harlan is a speaker who helps thousands of students, parents, educators, and professionals every year. He is also the founder and editor-in-chief of Before College TV. Harlan lives in Chicago, Illinois with his wife and three children. For more information about Harlan visit www.HelpMeHarlan.com. Follow Harlan on social media @HarlanCohen and @HelpMeHarlan.
---