SCALING HOPE FOR OVER 25+ YEARS

 Harlan Cohen is a New York Times bestselling author, speaker, and syndicated advice columnist. His books have sold over 1 million copies. He is an entrepreneur and innovator who has helped countless leaders navigate change, overcome adversity, and get comfortable with the uncomfortable.  He would be thrilled to work with you and your organization to participate in an upcoming event.
---
KEYNOTE: WIN OR LEARN
How to help you and your team turn every rejection into
your ultimate success.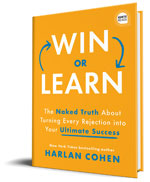 PROGRAM DESCRIPTION: 
New York Times bestselling Harlan Cohen takes over 25 years of expertise as a journalist and entrepreneur to help attendees increase grit, build resiliency, and turn adversity into success. During this interactive, high-energy, and laughter-filled keynote, Harlan spotlights your organization's people and places as he shares a five-step approach to help attendees embrace change, overcome obstacles, and grow in all aspects of their life. Harlan's unique presentation style includes live interaction with attendees. He then uses examples from his interactions to demonstrate the power applying a WIN OR LEARN framework. Harlan unique sense of humor and personal journey will challenge attendees to rethink rejection to grow as individuals and leaders. Attendees will leave with a renewed sense of purpose and practical tools that will have an immediate impact.
Hosted over 500 speaking events (conferences, workshops, virtual and in-person)
25+ years of experience (topics include: grit, resilience, change, leadership, retention, transition, growth mindset, mental health, college, careers, and parenting).
Over 1 million copies of his books in print
Over 390K followers on TikTok | Founder of BeforeCollege.TV
Formerly syndicated advice columnist (King Features)
For availability and costs email: speaking@helpmeharlan.com
HARLAN COHEN BIO
Harlan Cohen is a New York Times bestselling author with over 1 million copies of his books in print. He is the author of 7 titles including his most recent book Win or Learn: The Naked Truth About Turning Every Rejection Into Your Ultimate Success. Other titles include The Naked Roommate: And 107 Other Issues You Might Run Into In College, The Naked Roommate: For Parents Only, and Dad's Expecting Too!  Harlan was a syndicated advice columnist (20 years) and entrepreneur who has helped countless people. Harlan is a frequent guest on television and radio programs.  Harlan is the founder of BeforeCollege.TV and has over 390K followers on TikTok. Harlan lives with his wife and three children in Chicago, Illinois.